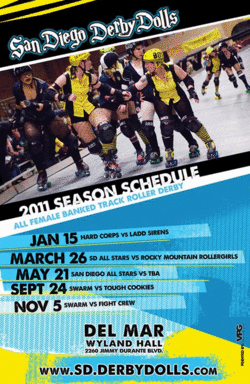 Ever seen bees buzzing around anything sweet? Let me tell you… When the San Diego Derby Dolls (The Swarm) meet face to face with its sister league the Los Angeles Derby Dolls (Tough Cookies) you will witness firsthand what we're talking about!
On September 24 The Swarm will face off with Tough Cookies in Wyland Hall, at the Del Mar Fairgrounds. This rematch has been long-awaited since San Diego narrowly lost the championship bout to this Los Angeles team last year, as well as the year before.
"
This is the most anticipated game of the year,
" PT Bruiser said. "
To come so close two years in a row, only to lose to the Cookies, makes me want this win that much more.
"
The on-going sibling rivalry started when an LA Derby Doll, Bonnie D. Stroir, created a sister Derby Doll league here in San Diego in 2005. Since then the Dolls have fought over trophies and titles determined by very close calls.
"
The Swarm bested the Cookies in the 2009 regular season match up, only to be defeated in the championship game by one point,
" Bruiser said. "
Deja vu in 2010 as The Swarm spoiled the Tough Cookies undefeated record in regular season, but couldn't quite crumble the Cookies who once again took home the trophy.
"
Tickets are available at www.derbydolls.com or at the door if they don't sell out. General admission/standing room is $15; bleacher seating is $20. Military, seniors and children 6-12 are $13. Children under 6 are free. The doors open at 6 p.m. The game starts at 7 p.m. Parking is $9 in cash. This is an all-ages family event with a full bar for those over 21. There will be raffle prizes, half-time entertainment, food, vendors and 1,500 screaming fans.